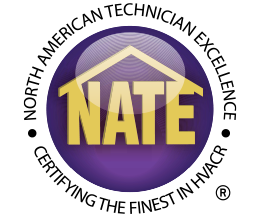 Standard is proud to announce that we are a NATE-Certified HVAC company. NATE stands for North American Technician Excellence, a third-party testing organization that verifies the knowledge of HVAC technicians. It is the nation's largest non-profit certification organization for the heating, ventilation, air conditioning and refrigeration industry.
NATE is the certification organization that was developed by the entire HVAC industry, and has been supported by it for more than 20 years. NATE was founded in 1997 and has grown with the HVAC industry. As the heating and cooling industry has evolved, NATE has worked to become the leader in developing and recognizing professional HVAC technicians.
Tests given by NATE represent real-world working knowledge of HVAC systems. These tests are developed by a committee of industry experts from across the nation, and represent topics that are pertinent to contractors, educators, manufacturers and utilities alike. NATE testing is rigorous, using multiple choice, knowledge-based tests to validate a technician's working knowledge of air conditioning and heating systems.