It's safe to say that upstate New Yorkers have energy efficiency at the forefront of their minds. The increasing cost of energy and the toll it takes on our environment from those fossil fuels, are creating the need for more efficient homes and businesses. Standard has the technology and solutions to reduce whole house energy costs.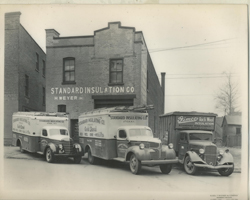 Standard was founded in 1928 and is now the oldest and largest insulation company in the Mohawk Valley. Using state-of-the-art technology and the Energy Smart incentive programs from the New York State Energy Research and Development Authority, Standard can determine the causes of energy loss in your home and provide the solutions. They will also determine if a family or individual qualifies for incentives up to 50% (max. $4,000) and low interest loans. The diagnostic and infrared testing done during the Home Assessment will indicate all areas that will improve your home's efficiency, including insulation, appliances, heating systems, windows and doors. This approach also offers a safety and quality check of the house after the work has been completed.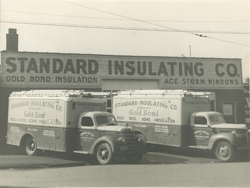 Along with a trained and committed staff, Standard offers innovative products and systems that allow them to provide superior service and solve many of the problems homeowners in upstate are faced with. Specializing in spray foam, Standard offers 2lb. closed cell spray foam. Other products includes blown fiberglass and cellulose. This product line is used in new construction along with commercial applications, such as the Stanley Theater and the bobsled run in Lake Placid.
A recent recipient of NYSERDA's (New York State Energy Research and Development Authority) 2006/07 Outstanding New Contractor Award for the Energy Smart Program and the 2007 Mohawk Valley Chamber of Commerce "Business of the Year", Standard continues to show its commitment to improving comfort and efficiency of their customer's homes.
Awards and Achievements
2007 Business of the Year — Mohawk Valley Chamber of Commerce
2007 Excellence in Small Business Award
2006/07 NYSERDA Home Performance with Energy Star Outstanding New Contractor
2007 Icynene Best Architect Designed and Specified Project — Old Forge Art Center
2008 Icynene Largest Architect Designed and Specified Project — Sitrin
2008, 2009, 2010, 2013, 2014, 2016 Century Club Award from EPA for work in the Home Performance with Energy Star Program
2011 Spray Polyurethane Foam Association (SPFA) National Industry Excellence Award for Unique Application and Residential Foam installation
Memberships
Mohawk Valley Chamber of Commerce
Mohawk Valley Home Builders Association
Mohawk Valley Builders Exchange
Saratoga Chamber of Commerce