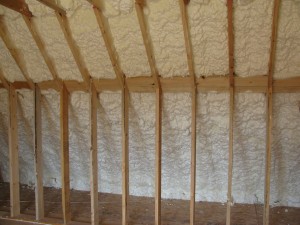 When you live in the Syracuse, NY area, you deal with winters that can be bone chilling, and summers that can be hot and sticky. Not to mention, energy costs can put a big dent in your home budget, especially for those living in an older home. Did you know that one of the best ways you can save energy and money is by making sure that your home is insulated properly? If you'd like to learn more about how upgrading your insulation can make your home more comfortable and efficient, Standard can help.
You probably think that insulation is important when it comes to your Syracuse, NY home staying warm in the winter. But you should also know that it helps it stay cooler in the summer, and helps your home have better durability, higher quality and increased market value. And, improving the insulation in your home helps you reduce your carbon footprint – better insulation helps you have better overall home energy efficiency, and that means you use fewer utilities – and that helps the planet!
Standard is the right choice for home insulation for people living in Syracuse, NY.
At Standard, we like to think we're a little different in the way we work with our customers. We offer different insulation types for a number of applications. New construction and gutted existing structures can benefit from spray foam. Cellulose insulation, on the other hand, is great for closed areas like walls and attics in older homes.
When you choose Standard to help, you can trust us to work with you to choose the right type of insulation for your home. Before we do anything at all, we send in one of our highly-trained, BPI certified technicians will conduct a complete, FREE home energy audit in your Syracuse, NY home, so that we can see how much heat loss you're experiencing, the areas in your home that are losing the most heat, and potential safety issues. We use the best diagnostic equipment to analyze your home's potential savings. And, after we complete the work in your home, we'll follow up with test-out that illustrates to you how improving your insulation has made your home more efficient.
Learn about how different insulation can make your Syracuse, NY home more comfortable.
Spray Foam Insulation
Spray foam is a great insulating option for Syracuse, NY homeowners who are building or fully remodeling. There are many different types of spray foam available, including closed cell (high density), open cell (low density), and even green foam, which is a low density spray foam made from renewable or recycled content. While each of these types of foam is made for a variety of different insulating applications, they all carry similar benefits for the homeowner.
High R-Value: R-value indicates insulation's resistance to heat flow. The higher the material's R-value, the greater its insulating effectiveness.
Draft Elimination: Spray foam keeps the cold (or hot) air outside, which keeps your home warmer (or cooler) and keeps your home comfort system from running unnecessarily.
Energy Savings: You won't have to worry about your treated air escaping outside, which will help your home comfort system run more efficiently – which can help you save money.
Moisture Barrier: Spray foam defends against conditions causing condensation and mold. And, it protects from interior and exterior water.
Build Enhancer: Spray foam insulation provides an added level of strength to your build – two to three times!
Improved IAQ: If you want to improve your home's indoor air quality, spray foam insulation is an ideal choice. It keeps pollen, dust and pollution out of your home, and discourages mold and mildew growth.
Cellulose Insulation
Cellulose insulation is plant-based insulating material used in wall and roof cavities to separate the inside and outside of your Syracuse, NY home thermally and acoustically. That means it keeps the heat and noise inside the house! Cellulose provides a thermal performance that compares favorably to other types of insulation, with an R-Value of 3.8 per inch. It fits well around items in walls like pipes and wiring, leaving few air pockets that can reduce the overall efficiency of the wall. Here are a few additional benefits of using cellulose insulation:
Safety Value: Up to 85% recycled paper waste material with remaining percent made of boric (fire retardant) treatment that provides a Class-1 fire rating, making it a safe choice.
No Harmful Additives: Does not contain formaldehyde.
Fiberglass Free: Since there are no glass fibers, cellulose does not make you itch.
Excellent Sound Barrier: Provides exceptional sound reduction. Since it is three times the density of fiberglass, it helps deaden the sound traveling through the walls and ceilings.
Find out how Standard can help you with your Syracuse, NY home insulation needs.
We install the following types of home insulation, depending on the specific home style and situation of your Syracuse, NY home:

There has never been a better time to get all of the benefits of new home insulation – you'll be more comfortable, avoid ice build-up, save energy and money, and lower utility bills will help pay for it all! Find out more about this limited time program for Syracuse, NY homeowners by calling us toll-free at 1-(800) 738-1424 and scheduling a FREE home energy audit.