Living around Syracuse, NY, you know that winters can be frigid and summers can get hot and humid. If your home isn't properly insulated, you can lose energy – and money – every time you run your home comfort system. Putting a 'coat' of insulation in the walls of your existing home is an important step to making sure your home is energy efficient.
Insulating the Walls in Your Syracuse, NY Home
Your walls make up the majority of the heated surfaces in your home. Adding cellulose insulation can help maximize the energy efficiency of your Syracuse, NY home. Here are a few of the additional benefits:
Wall insulation will plug drafts generated by empty walls.
Cellulose in walls provides exceptional sound reduction
Filling the wall cavity can help deter rodents traveling through your walls.
What is Cellulose Insulation for Walls?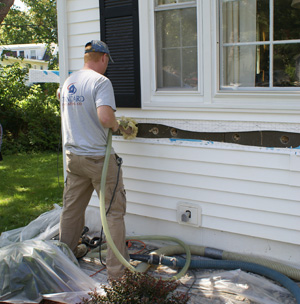 Cellulose insulation is plant-based insulating material used in wall and roof cavities to separate the inside and outside of your home thermally and acoustically. That means it keeps the heat and noise inside the house! Cellulose provides a thermal performance that compares favorably to other types of insulation, with an R-Value of 3.8 per inch. It fits well around items in walls like pipes and wiring, leaving few air pockets that can reduce the overall efficiency of the wall.
How Long has Cellulose Insulation been Around?
It is actually one of the oldest types of insulation material, in the past made from a variety of materials including such oddities like hemp and corncobs, cotton, straw, sawdust, cardboard, and old newspapers. Cellulose was even used to insulate the Monticello plantation owned by Thomas Jefferson back in the late 1700s. Today's cellulose insulation is made from recycled newspapers with a fire retardant added, making it environmentally responsible as well as safer than many other forms of insulation.
A Cellulose Boon in Recent Years
Cellulose insulation has seen a renewed popularity recently in the United States as people across the country have become more concerned in saving the environment with "green" building techniques and products. Cellulose is a great choice for an environmentally-friendly material since it has the highest recycled material content of any insulation. Builders are also turning to cellulose because it can protect a structure from fire damage better than fiberglass insulation as it is denser than the fiberglass. Air won't easily pass through it, and this gives the cellulose the ability to deprive the fire of the oxygen needed to fuel the burn.
Here are a few additional benefits of using cellulose insulation in your Syracuse, NY walls:
Safety Value: Up to 85% recycled paper waste material with remaining percent made of boric (fire retardant) treatment that provides a Class-1 fire rating, making it a safe choice.
No Harmful Additives: Does not contain formaldehyde.
Fiberglass Free: Since there are no glass fibers, cellulose does not make you itch.
Excellent Sound Barrier: Provides exceptional sound reduction. Since it is three times the density of fiberglass, it helps deaden the sound traveling through the walls and ceilings.
How is Insulation Installed in Older Homes?
When you call Standard to insulate the walls of your older Syracuse, NY home, our professional installers will treat your home with the care you deserve. Typically, they will follow the protocol below:
Your home's exterior covering (siding, clapboards, shingles, etc.) will be removed to expose the sheathing underneath.
Holes will be drilled approximately every 16 inches, or every cavity, to provide an opening in the wall.
A hose is inserted into the cavity and the cellulose is blown in through pressure created by a machine housed in our box truck.
The holes are then plugged and the siding is reinstalled.
If your home has a brick or stone exterior, this same process can be done from the inside. Holes will be drilled through the plaster or sheetrock, and patched upon completion.
If your heating bills are high, yet you are still uncomfortable, the chances are pretty good that you need to insulate your walls. The next step is to call Standard toll-free at 1.(800) 738-1424 and schedule a FREE home energy audit.
We install the following types of home insulation in Syracuse, NY, depending on your specific home style and situation: